DataForSEO updates the list of locations
1597733700001
Update
SERP API
Keyword Data API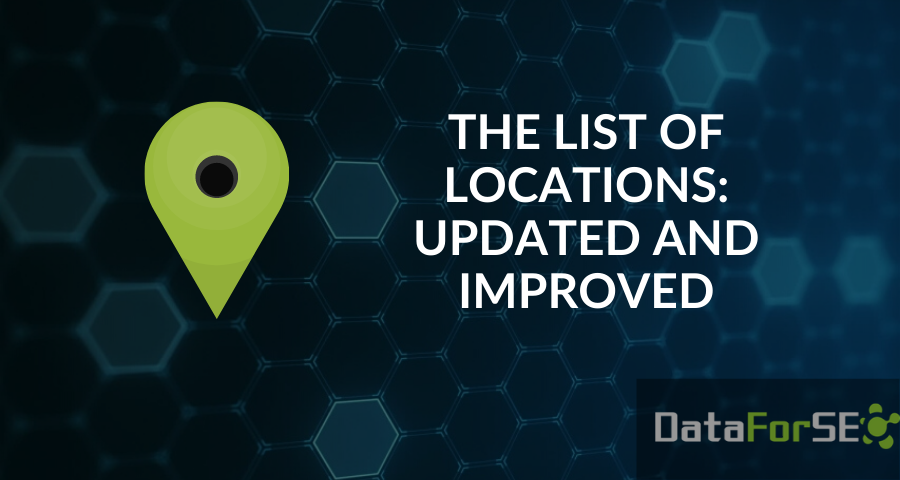 DataForSEO updates the list of locations in order to ensure you are getting highly-relevant results using our API.
Google has recently marked some locations as "Removal Planned" which means locations are obsolete and Google is going to deprecate them soon.
As DataForSEO uses Google geographical targeting, we are also going to delete the deprecated locations from our list.
​
Our top priority is to provide you with the best opportunities for targeting and the highest accuracy of the results. That is why, we also change some location_name parameters and add new locations to the list.
​
Note that you can always receive an up-to-date list of locations which is available in the documentation. You can just pull the actual location_id andlocation_name parameters to your database or directly to the application if you don't want to update them manually from time to time.
​
The changes will be applied on September 18.
Please note, after the update, you won't be able to hit the DataForSEO API with removed locations. During the upcoming 30 days, you will be able to use the old locations without restrictions.
Below you will find the links to the CSV files that contain removed, added, and changed locations. Feel free to download the lists for a necessary version.
DataForSEO API v2
📎 v2_removal_planned_locations_08.18.2020.csv
📎 v2_added_locations_08.18.2020.csv
📎 v2_changed_loc_name_canonical_08.18.2020.csv
DataForSEO API v3
📎 v3_removal_planned_locations_08.18.2020.csv
📎 v3_added_locations_08.18.2020.csv
📎 v3_changed_locations_08.18.2020.csv