Introducing Page Intersection API
1586514300001
Announcement
DataForSEO Labs API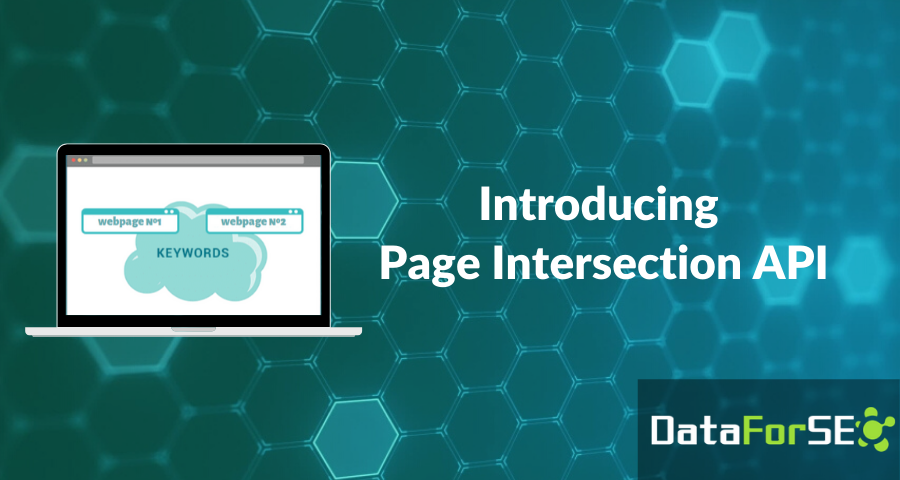 DataForSEO has released Page Intersection API - advanced solution to find the keywords several URLs rank for.
Our engineers have completed another lab-based project and the new endpoint is already available at DataForSEO Labs API.
The new API opens great opportunities for building sophisticated solutions on top of that. You are able to specify up to 20 URLs and see the intersected keywords.
Furthermore, DataForSEO provides a complex filtering system which allow s you to extract the fully customized list of search queries:
Exclude the keywords your webpage ranks for and get only competitors' search terms from SERP;
Get only top-ranking keywords for the specified pages;
Filter and sort the results by any SEO metric available in the response (search volume, estimated traffic cost, etc.)
Use Cases 💻
1. Find out the keywords you should be targeting.
It's an easy job to uncover the search terms your competitors rank for, but you don't. It will help to get a massive list of keywords that are already tested by your rivals. Convert their efforts into your benefits!
2. Reveal the search intent.
​
Understand what queries lead to your competitors' webpages, try to figure out why, and use this information to create brilliant content. Research the other questions searchers want to be answered by using your competitors' insights.
3. Clean up the keywords list.
​
Get rid of useless keywords that don't drive any potential traffic. Filter the returned intersected keywords by estimated traffic volume to see what search terms are useless for your competitors. Avoid their mistakes and focus only on those keywords that bring real results.
Feel free to learn more in the documentation.