Obtain data for your seed keywords
1598614020001
DataForSEO Labs API
Improvement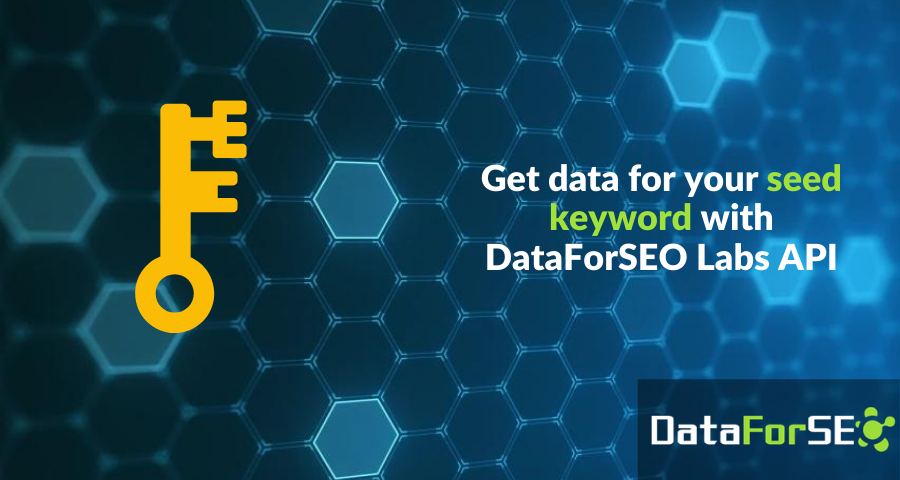 When doing keyword research, it's important not only to get new keyword ideas, but also to understand the metrics behind a search term you obtain the suggestions for.
That's why DataForSEO team has added a possibility to receive data for seed keywords in Related Keywords and Keyword Suggestions.
Previously, seed keyword data was occasionally included in the response. From now on, when setting a task you can specify the include_seed_keyword parameter as true and receive the corresponding data in the response array.
If you don't specify this field, the seed_keyword_data field in the response will be null and you will receive data only for keyword ideas in the items array as previously.
In the example below, you can see the field seed_keyword_data within the result array of API response:
Request Sample:
https://api.dataforseo.com/v3/dataforseo_labs/related_keywords/live
[
    {
        

"keyword"

: 

"buy iphone"

,
        

"language_name"

: 

"English"

,
        

"location_code"

: 

2840

,
        

"limit"

: 

10

,
        

"include_seed_keyword"

: 

"true"


    }
]

Response Sample:
{
  

"version"

: 

"0.1.20200805"

,
  

"status_code"

: 

20000

,
  

"status_message"

: 

"Ok."

,
  

"time"

: 

"0.1174 sec."

,
  

"cost"

: 

0.0109

,
  

"tasks_count"

: 

1

,
  

"tasks_error"

: 

0

,
  

"tasks"

: [
    {
      

"id"

: 

"08281438-1535-0124-0000-e14fb3b5c599"

,
      

"status_code"

: 

20000

,
      

"status_message"

: 

"Ok."

,
      

"time"

: 

"0.0312 sec."

,
      

"cost"

: 

0.0109

,
      

"result_count"

: 

1

,
      

"path"

: [
        

"v3"

,
        

"dataforseo_labs"

,
        

"related_keywords"

,
        

"live"


      ],
      

"data"

: {
        

"api"

: 

"dataforseo_labs"

,
        

"function"

: 

"related_keywords"

,
        

"keyword"

: 

"buy iphone"

,
        

"language_name"

: 

"English"

,
        

"location_code"

: 

2840

,
        

"limit"

: 

10

,
        

"include_seed_keyword"

: 

"true"


      },
      

"result"

: [
        {
          

"seed_keyword"

: 

"buy iphone"

,
          

"seed_keyword_data"

: {
            

"keyword"

: 

"buy iphone"

,
            

"location_code"

: 

2840

,
            

"language_code"

: 

"en"

,
            

"keyword_info"

: {
              

"last_updated_time"

: 

"2020-08-02T08:52:14"

,
              

"competition"

: 

0.9999272462713714

,
              

"cpc"

: 

3.782709

,
              

"search_volume"

: 

14800

,
              

"categories"

: [
                

10007

,
                

10019

,
                

10167

,
                

10878

,
                

11511

,
                

12161

,
                

13054

,
                

13381

,
                

13419


              ],
              

"monthly_searches"

: [
                {
                  

"year"

: 

2020

,
                  

"month"

: 

6

,
                  

"search_volume"

: 

14800


                },
                {
                  

"year"

: 

2020

,
                  

"month"

: 

5

,
                  

"search_volume"

: 

14800


                },
                {
                  

"year"

: 

2020

,
                  

"month"

: 

4

,
                  

"search_volume"

: 

14800


                },
                {
                  

"year"

: 

2020

,
                  

"month"

: 

3

,
                  

"search_volume"

: 

12100


                },
                {
                  

"year"

: 

2020

,
                  

"month"

: 

2

,
                  

"search_volume"

: 

12100


                },
                {
                  

"year"

: 

2020

,
                  

"month"

: 

1

,
                  

"search_volume"

: 

12100


                },
                {
                  

"year"

: 

2019

,
                  

"month"

: 

12

,
                  

"search_volume"

: 

14800


                },
                {
                  

"year"

: 

2019

,
                  

"month"

: 

11

,
                  

"search_volume"

: 

14800


                },
                {
                  

"year"

: 

2019

,
                  

"month"

: 

10

,
                  

"search_volume"

: 

18100


                },
                {
                  

"year"

: 

2019

,
                  

"month"

: 

9

,
                  

"search_volume"

: 

18100


                },
                {
                  

"year"

: 

2019

,
                  

"month"

: 

8

,
                  

"search_volume"

: 

14800


                },
                {
                  

"year"

: 

2019

,
                  

"month"

: 

7

,
                  

"search_volume"

: 

14800


                },
                {
                  

"year"

: 

2019

,
                  

"month"

: 

6

,
                  

"search_volume"

: 

14800


                },
                {
                  

"year"

: 

2019

,
                  

"month"

: 

5

,
                  

"search_volume"

: 

14800


                },
                {
                  

"year"

: 

2019

,
                  

"month"

: 

4

,
                  

"search_volume"

: 

12100


                },
                {
                  

"year"

: 

2019

,
                  

"month"

: 

3

,
                  

"search_volume"

: 

12100


                },
                {
                  

"year"

: 

2019

,
                  

"month"

: 

2

,
                  

"search_volume"

: 

12100


                }
              ]
            },
            

"impressions_info"

: {
              

"last_updated_time"

: 

"2020-07-31T11:00:12"

,
              

"bid"

: 

999

,
              

"match_type"

: 

"exact"

,
              

"ad_position_min"

: 

1.23

,
              

"ad_position_max"

: 

1

,
              

"ad_position_average"

: 

1.12

,
              

"cpc_min"

: 

314.52

,
              

"cpc_max"

: 

384.42

,
              

"cpc_average"

: 

349.47

,
              

"daily_impressions_min"

: 

389.55

,
              

"daily_impressions_max"

: 

476.12

,
              

"daily_impressions_average"

: 

432.83

,
              

"daily_clicks_min"

: 

10.82

,
              

"daily_clicks_max"

: 

13.22

,
              

"daily_clicks_average"

: 

12.02

,
              

"daily_cost_min"

: 

3779.79

,
              

"daily_cost_max"

: 

4619.75

,
              

"daily_cost_average"

: 

4199.77


            }
          },
          

"location_code"

: 

2840

,
          

"language_code"

: 

"en"

,
          

"total_count"

: 

9

,
          

"items_count"

: 

9

,
          

"items"

: [
            {
              

"keyword_data"

: {
                

"keyword"

: 

"iphone xr"

,
                

"location_code"

: 

2840

,
                

"language_code"

: 

"en"

,
                

"keyword_info"

: {
                  

"last_updated_time"

: 

"2020-08-24T08:57:44.3263098Z"

,
                  

"competition"

: 

1

,
                  

"cpc"

: 

2.834998

,
                  

"search_volume"

: 

1830000

,
                  

"categories"

: [
                    

10001

,
                    

10007

,
                    

10019

,
                    

10024

,
                    

10167

,
                    

10181

,
                    

10182

,
                    

10878

,
                    

10946

,
                    

11511

,
                    

12161

,
                    

13054

,
                    

13381

,
                    

13419


                  ],
                  

"monthly_searches"

: [
                    {
                      

"year"

: 

2020

,
                      

"month"

: 

7

,
                      

"search_volume"

: 

1830000


                    },
                    {
                      

"year"

: 

2020

,
                      

"month"

: 

6

,
                      

"search_volume"

: 

1830000


                    },
                    {
                      

"year"

: 

2020

,
                      

"month"

: 

5

,
                      

"search_volume"

: 

1830000


                    },
                    {
                      

"year"

: 

2020

,
                      

"month"

: 

4

,
                      

"search_volume"

: 

1500000


                    },
                    {
                      

"year"

: 

2020

,
                      

"month"

: 

3

,
                      

"search_volume"

: 

1220000


                    },
                    {
                      

"year"

: 

2020

,
                      

"month"

: 

2

,
                      

"search_volume"

: 

1220000


                    },
                    {
                      

"year"

: 

2020

,
                      

"month"

: 

1

,
                      

"search_volume"

: 

1500000


                    },
                    {
                      

"year"

: 

2019

,
                      

"month"

: 

12

,
                      

"search_volume"

: 

2240000


                    },
                    {
                      

"year"

: 

2019

,
                      

"month"

: 

11

,
                      

"search_volume"

: 

2240000


                    },
                    {
                      

"year"

: 

2019

,
                      

"month"

: 

10

,
                      

"search_volume"

: 

1830000


                    },
                    {
                      

"year"

: 

2019

,
                      

"month"

: 

9

,
                      

"search_volume"

: 

2740000


                    },
                    {
                      

"year"

: 

2019

,
                      

"month"

: 

8

,
                      

"search_volume"

: 

2240000


                    }
                  ]
                },
                

"impressions_info"

: {
                  

"last_updated_time"

: 

"2020-08-24T08:57:48.461413Z"

,
                  

"bid"

: 

999

,
                  

"match_type"

: 

"exact"

,
                  

"ad_position_min"

: 

1.14

,
                  

"ad_position_max"

: 

1

,
                  

"ad_position_average"

: 

1.07

,
                  

"cpc_min"

: 

311.09

,
                  

"cpc_max"

: 

380.22

,
                  

"cpc_average"

: 

345.66

,
                  

"daily_impressions_min"

: 

26369.62

,
                  

"daily_impressions_max"

: 

32229.54

,
                  

"daily_impressions_average"

: 

29299.58

,
                  

"daily_clicks_min"

: 

440.34

,
                  

"daily_clicks_max"

: 

538.2

,
                  

"daily_clicks_average"

: 

489.27

,
                  

"daily_cost_min"

: 

152207.8

,
                  

"daily_cost_max"

: 

186031.78

,
                  

"daily_cost_average"

: 

169119.79


                }
              },
              

"depth"

: 

1

,
              

"related_keywords"

: [
                

"iphone xr price"

,
                

"iphone xr colors"

,
                

"iphone xr review"

,
                

"iphone xr case"

,
                

"iphone xr walmart"

,
                

"iphone xr cricket"

,
                

"iphone xr unlocked"

,
                

"iphone xr specs"


              ]
            }
          ]
        }
      ]
    }
  ]
}