The 'tag' field is added to the 'tasks_ready' endpoints
1587572100001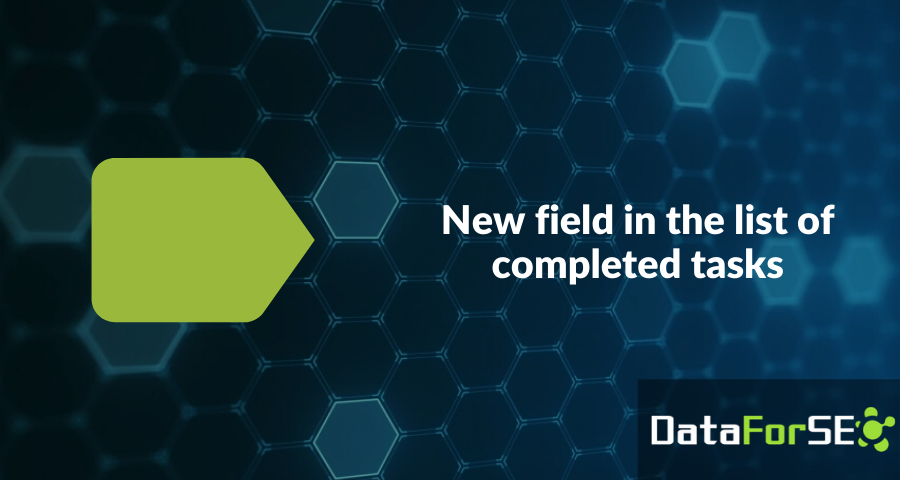 The user-defined task identifier - tag - was added to the tasks_ready endpoints:
"tag": 1234231231
Basically, the tag parameter is a custom task identifier set from your end. You can use this parameter to identify the task and match it with the result.
The 'tag' field is now presented in the response of all tasks_ready endpoints.
It will help you to better navigate among tasks if you add the tag value and use tasks_ready endpoints to receive the list of tasks which have been completed but haven't been collected yet.
The structure of the updated response is provided below:
{
  

"version"

: 

"0.1.20200422"

,
  

"status_code"

: 

20000

,
  

"status_message"

: 

"Ok."

,
  

"time"

: 

"3.0930 sec."

,
  

"cost"

: 

0

,
  

"tasks_count"

: 

1

,
  

"tasks_error"

: 

0

,
  

"tasks"

: [
    {
      

"id"

: 

"04231243-8404-0087-0000-42356d56a1f5"

,
      

"status_code"

: 

20000

,
      

"status_message"

: 

"Ok."

,
      

"time"

: 

"3.0253 sec."

,
      

"cost"

: 

0

,
      

"result_count"

: 

2

,
      

"path"

: [
        

"v3"

,
        

"serp"

,
        

"google"

,
        

"organic"

,
        

"tasks_ready"


      ],
      

"data"

: {
        

"api"

: 

"serp"

,
        

"function"

: 

"tasks_ready"

,
        

"se"

: 

"google"

,
        

"se_type"

: 

"organic"


      },
      

"result"

: [
        {
          

"id"

: 

"04231243-8404-0066-0000-39cee7a23cfe"

,
          

"se"

: 

"google"

,
          

"se_type"

: 

"organic"

,
          

"date_posted"

: 

"2020-04-23 09:43:22 +00:00"

,
          

"tag"

: 

123

,
          

"endpoint_regular"

: 

"/v3/serp/google/organic/task_get/regular/04231243-8404-0066-0000-39cee7a23cfe"

,
          

"endpoint_advanced"

: 

"/v3/serp/google/organic/task_get/advanced/04231243-8404-0066-0000-39cee7a23cfe"

,
          

"endpoint_html"

: 

"/v3/serp/google/organic/task_get/html/04231243-8404-0066-0000-39cee7a23cfe"


        },
        {
          

"id"

: 

"04231243-8404-0066-0000-7c2f7dc34c40"

,
          

"se"

: 

"google"

,
          

"se_type"

: 

"organic"

,
          

"date_posted"

: 

"2020-04-23 09:43:19 +00:00"

,
          

"tag"

: 

1234231231

,
          

"endpoint_regular"

: 

"/v3/serp/google/organic/task_get/regular/04231243-8404-0066-0000-7c2f7dc34c40"

,
          

"endpoint_advanced"

: 

"/v3/serp/google/organic/task_get/advanced/04231243-8404-0066-0000-7c2f7dc34c40"

,
          

"endpoint_html"

: 

"/v3/serp/google/organic/task_get/html/04231243-8404-0066-0000-7c2f7dc34c40"


        }
      ]
    }
  ]
}